Hello, and welcome back The Wednesday Writeup!
This has been an interesting week, and although it has been a bit mixed, overall I'm pretty happy with how things are going. Definitely getting more and more restless as the time goes on, but I'm nailing down my routines and pushing myself more with challenges than I have in the past, which is a good distraction and feels like a productive way to spend my time.
What I'm Doing
Having mixed results with my writing challenge. Published four posts and a tweet storm (took longer than expected to draft) since last Wednesday. Not where I want to be, but what I'm finding is that some of my favorite ideas just can't really be shortened or done overly quickly. There are a couple of posts in the works that I have been struggling with, and even though I give them a few hours of writing every day or two I'm definitely making slower progress than I would like. Luckily I have given myself some margin, but I have a feeling I won't quite hit my target. But even if not, I'm fine with that as long as I keep making a solid attempt at it.
These are the posts I got out:
- Music: A balance between novelty and comfort
- Android Basics: Introduction
Started the Building a Second Brain Cohort 10 this week. I did the last cohort at the end of last year, but I was over in Europe at the time and couldn't attend the live sessions or fully engage with the community. I'm really looking forward to meeting more folks, having many long discussions about productivity and note taking tools, and also having accountability to work on a Capstone project.
Slow progress on coding. This will likely be a side effect of all these other things building up, but I'm not dedicating as much time as I would like to programming after all the reading, writing, class taking, and other things that have begun lately. Still getting an hour or two a day at least, but not enough to make significant progress.
I have added a section to my site for raw notes. I'm trying to lean more into Learning in Public, and I have added a place on my site to do so a bit more directly. I still need to go through more of my other notes and get them into markdown, and the section of the site is still quite rough, but if you are interested, I have a couple of sets of book notes up there now.
What I'm Thinking
As evidenced by my tweet storm, I'm really interested in the podcasting ecosystem and what unexplored opportunities are available. I have something related to this that is in the works, I am planning to try and prototype something as part of my Building a Second Brain Capstone.
I'm realizing that I need to manage my sleep a bit better. I have been taking good steps in most areas of my health, but I have started waking up early enough that my previous target sleep time isn't cutting it. I think this mostly is still a holdover from when I was last traveling, but I can't seem to consistently stay asleep later than 5:30-6:00, even when going to bed around 11:00. I'm not unhappy with an early wake up though, so I'm thinking I just need to start getting to bed earlier than I have been, shoot for maintaining ~8 hours a night.
Things to Read
Articles
Quantum computing for the very curious - Andy Matuschak and Michael Nielsen
I haven't been brave enough to tackle this post yet but it seems fascinating. I'm putting it here as a commitment to myself to read through it and try to capture notes that I can upload by next week. I have never really known much about quantum computing, so going through this will likely be a good exercise.
It also has an embedded Spaced Repetition System within the post, so it's something that I am using as inspiration when thinking through how I want to integrate that into my teaching.
The Conversation - Seth Godin
In a post that is slightly longer than normal for his blog, a few weeks ago Seth Godin wrote about a vision for teaching and online interaction in this quarantined world. It hits a lot of good notes about how best to use Zoom, and how to build education around this new model of interacting. I have to say, the Building
Books
Bird by Bird by Anne Lamott
I have written a more detailed review and published my raw notes, but as a brief summary, this is a book written to teach fiction writing. There is a ton of interesting content in here about how to approach the writing process, how to deal with the struggles of writing, and crafting good characters, plot, and dialog, amongst other things. Although I'm sure I would have gotten much more out of it if I was a fiction writer, I still felt like there was enough of value in here to be worth the ~240 pages. Plus, the whole thing is really witty and full of colorful language and entertaining stories, so even without much value, it would still be a fun read.
Things to Watch
I don't follow it too closely, but I love the idea behind the tiny house movement. In most other examples I have seen though I end up spotting so many deal breakers it is obvious it wouldn't be the type of lifestyle for me. This video is probably the first time I have actually felt like I could see myself in a tiny home. Has a gaming setup, nice bed that you don't need to climb up to go to sleep, and a surprisingly large kitchen. Fit a couple of musical instruments in there somewhere and it's a setup I could see myself living in! Although I have to say, with everything happening the last few months, I would not like the idea of quarantining inside of a tiny home.
It's likely that many of you already know about this, but for any of you that somehow haven't been exposed to it before, this is essentially a really popular never ending live stream of chill music. Paired with a nice relaxing animation, it is a surprisingly pleasant thing to have on every now and then when trying to get work done.
Location of the Week: Aberdeen, UK
When I was staying in Edinburgh, after about two weeks I realized that, although the city was cool, I needed to get out and take a train somewhere. I decided that Aberdeen seemed like as good a place as any for a day trip, so I headed to Waverley station, bought a ticket, and made my way north.
I didn't do too much there, it was mostly an excuse to see a new place. But after getting a quick bite to eat I did checkout the Aberdeen Maritime Museum which was pretty cool, and then headed out to the coast to just meander along the ocean for a few hours listening to Sherlock Holmes and the sounds of the waves.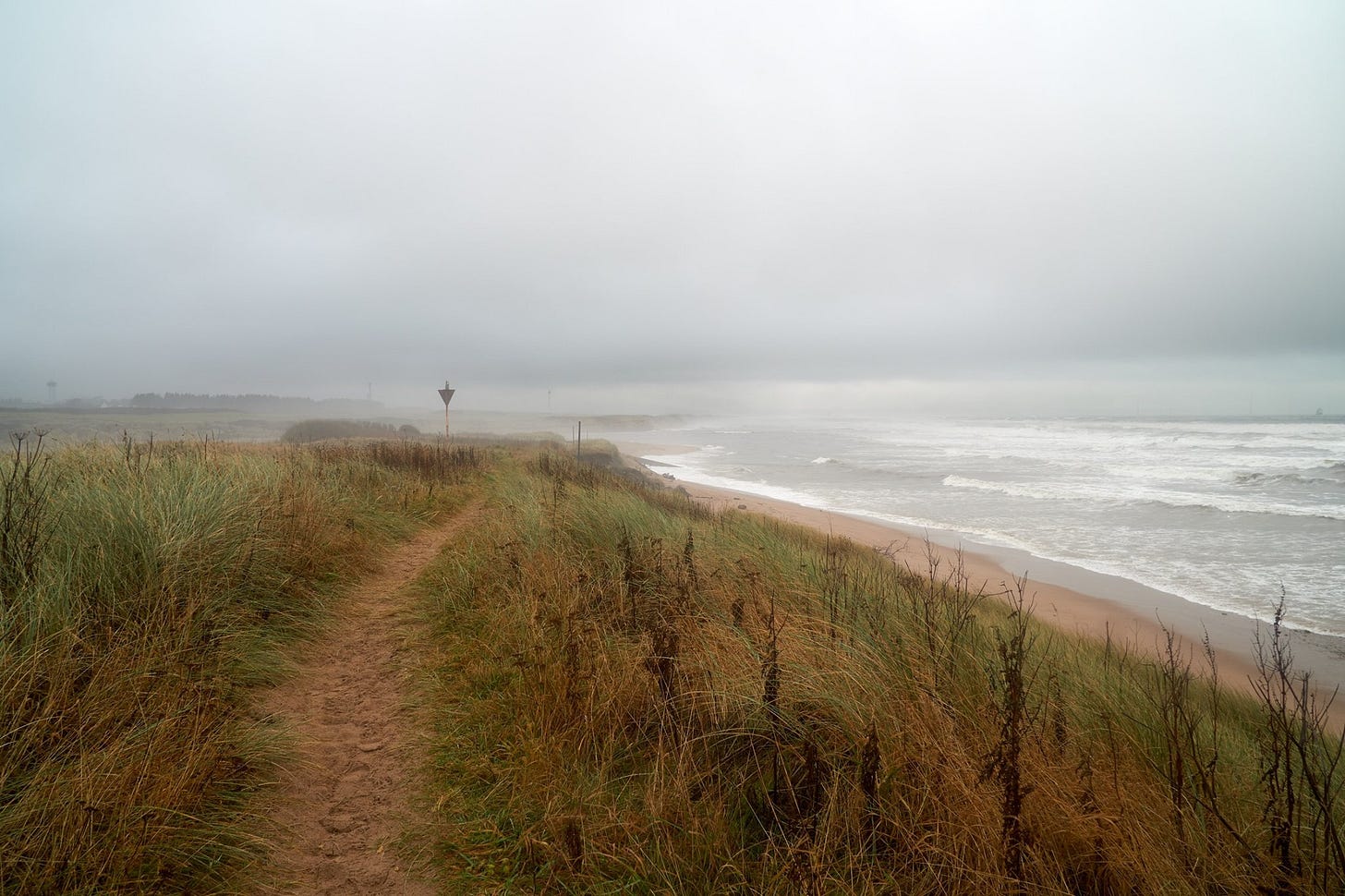 Signing off until next week
- Aengus McMillin