Discover more from The Wednesday Writeup
Weekly update on interesting things I'm doing, thinking, reading, and watching
The Wednesday Writeup - Issue #14
Welcome back to The Wednesday Writeup! Keeping this one slightly short. Been a rather busy one and haven't quite had the mental bandwidth to come up with and write an idea for the week. Might need to consider switching things up again next week, feel something is still missing and I'm having trouble filling these sections, so will definitely be considering my options.
What I'm Doing
Going back out into the world. This week I have been getting out and about a bit more than normal. The county I'm in has had very few COVID cases, and we are about as far into reopening as we will get until there is a vaccine, so this week we have started meeting up with some friends again, and even have had a couple of lake/camping trips. Still doing everything outside, and playing it pretty safe, but it is nice to be able to start doing normal things again.
I have built up and am now working through a publishing checklist to make sure I cover all my bases with VocalChords. I'm hoping to evolve this list, and expand on the details in my notes about each step (hence the linked but currently empty pages on my brain site) as I get more experience shipping apps. I'm getting close to the finish line, I can feel it. Every time I work on it there are fewer fixes and tweaks that need to be made. The biggest barrier now is coming down to the marketing side of things. This week I'm going to be focusing on writing copy, capturing good images, and really trying to encapsulate the value proposition that this app will provide. I'm excited, I'm really stoked to be shipping something I have been working on for so long. I also realize I really need to make sure future apps don't take this much time.
Pushed out what will likely be the final major change to gatsby-theme-brain for a while. I shipped a couple of bug fixes, along with the change to network the themes. I built a demo here that shows off the networking of two separate sites built with the theme. I don't have much else on my list for now as far as features, so other than monitoring GitHub for bugs that need to be fixed, I'm likely to be putting it on the backburner to focus on getting my app out and then pivot to other interesting project ideas.
Recommendations
Big Magic - Elizabeth Gilbert
I read this a few days ago, and it is such a good book. There seems to be a class of books out there directly targeting the emotional realities of producing and publishing creative works. Bird by Bird and The War of Art are a few of the others I have read, but this one might be one of the best so far. There were several sections that really resonated with me. Right off the bat Elizabeth presents a list of fears that creatives have, and I was amazed how many of them connected right to my core. It immediately pulled me in realizing that she was talking to people with the same issues that I have. There isn't necessarily concrete action items or anything, it isn't that type of book, but there is plenty of valuable insights on how to approach life and the creative process. There was a section near the end in particular that called to me that I wanted to highlight.
"I think a lot of people quit pursuing creative lives because they're scared of the word interesting. My favorite meditation teacher, Pema Chödrön, once said that the biggest problem she sees with people's meditation practice is that they quit just when things are starting to get interesting. Which is to say, they quit as soon as things aren't easy anymore, as soon as it gets painful, or boring, or agitating. They quit as soon as they see something in their minds that scares them or hurts them. So they miss the good part, the wild part, the transformative part—the part when you push past the difficulty and enter into some raw new unexplored universe within yourself."
Salt, Fat, Acid, Heat - Samin Nosrat
This is probably my favorite book on cooking right now. Samin presents these four important components of cooking in an incredibly interesting and compelling way. Even just reading the first chapter will likely change the way you think about cooking completely. Throughout each of the sections, she includes stories about her own experiences growing as a chef at a number of top tier restaurants around the world and the different ways they taught her to use each components. She gets into concrete techniques for using the elements as well as the science behind it, and manages to condense years of knowledge and experience into dense yet entertaining information, paired with great images to keep you hungry and enjoying the read. The way I think of it is that with this book Samin has successfully managed to teach the intuition behind cooking.
Location of the Week: Buenos Aires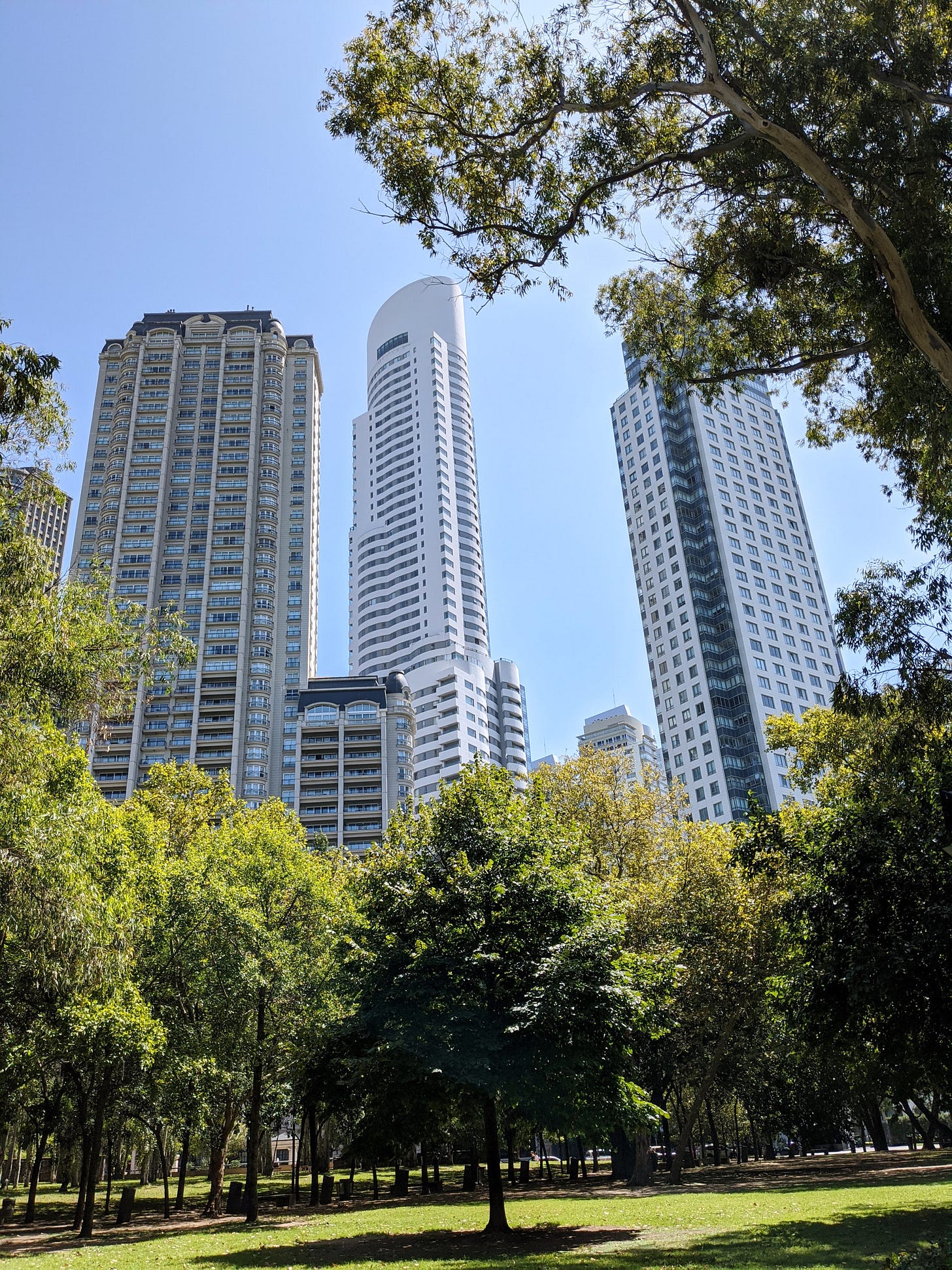 When I was visiting Argentina this spring I flew in and out of Buenos Aires. It was a little hot for my liking, but a really interesting place to visit. For the first few days I was by myself and just wandered around the areas near my hotel, primarily tooling around Puerto Madero and the Ecological Reserve. I liked the direct contrast between city and greenery throughout much of the area. You would be standing in a super green and lush park, but then if you look up above the trees there would be massive buildings looming overhead.
Before flying out I had a couple of days back in Buenos Aires with my tour group, and we were able to actually have a big guided tour around a few parts of the city. We went to the Plaza de Mayo and got to visit the cathedral that was the former seat of Pope Francis, spent some time walking around the brightly colored buildings of La Boca, and finished off our tour by wandering around the Recoleta Cemetery, visiting the mausoleums of a number of famous figured from Argentinian history.
We also got to dance the Tango at a milonga, which was interesting, although that definitely isn't my favorite type of dance. It looks really nice when professionals do it, but as a beginner it felt kinda boring, and it was basically just walking around stepping on people's feet. Happy to have gotten the experience though, I know that for the time being Swing is still the dance for me.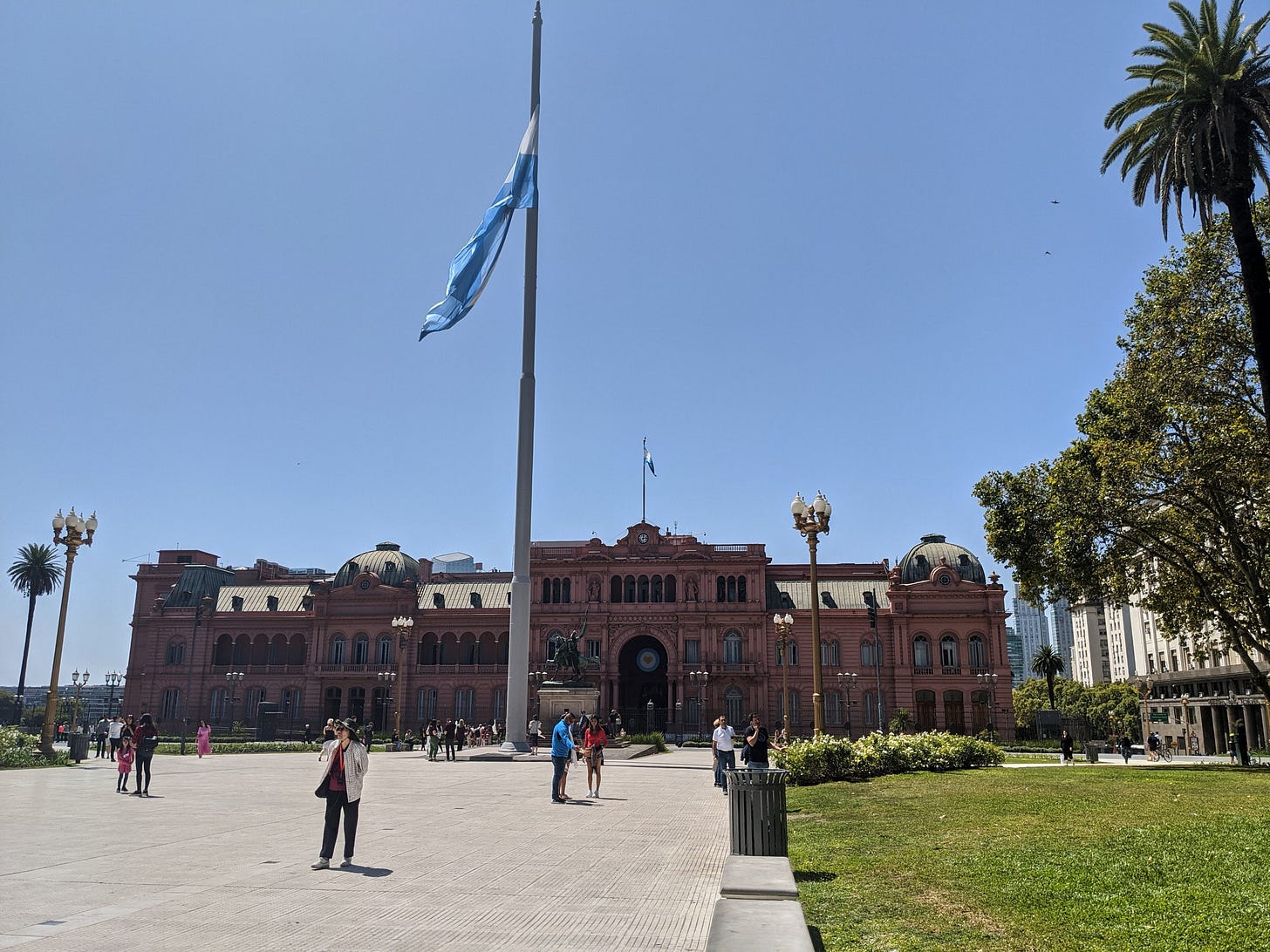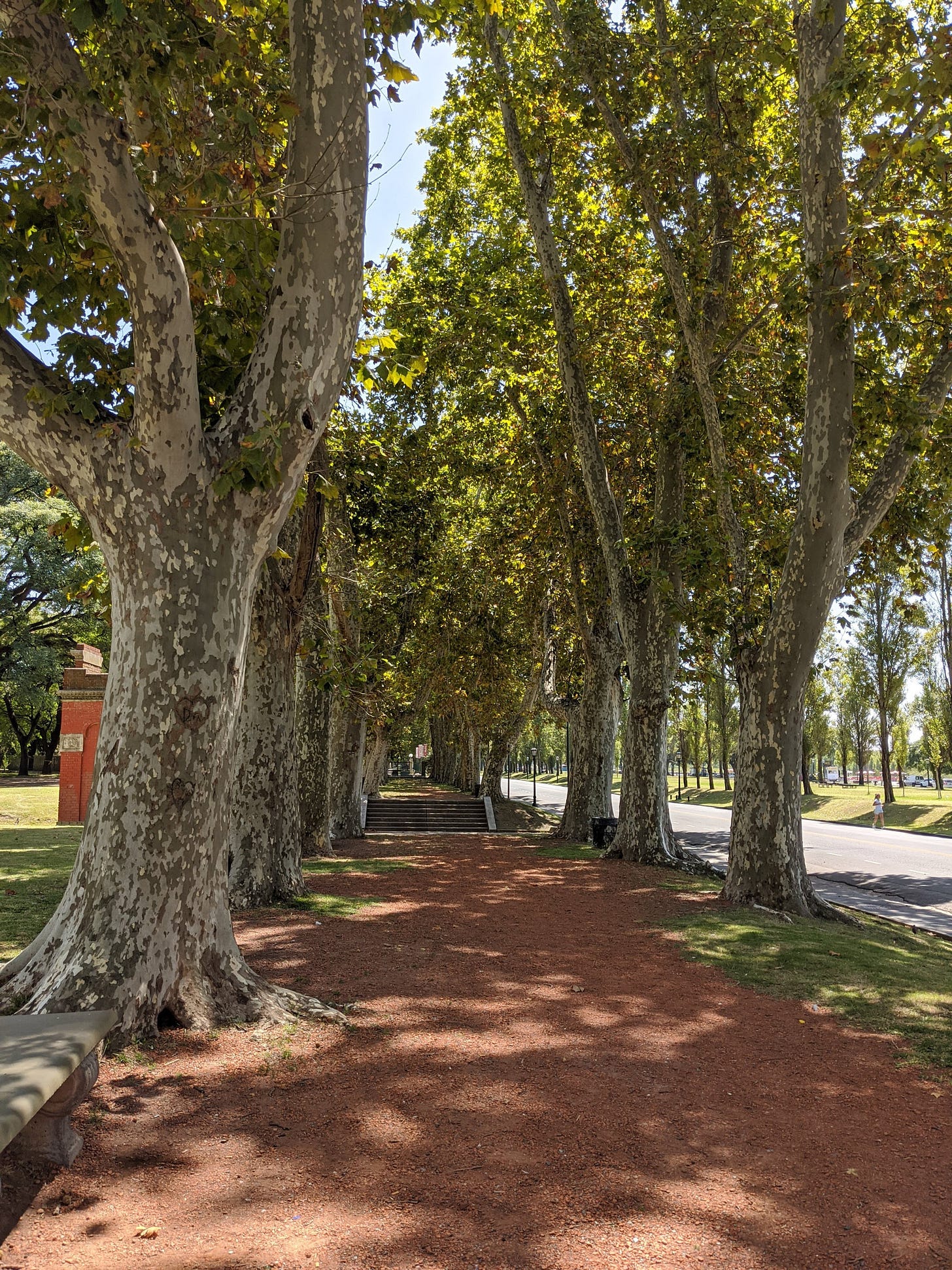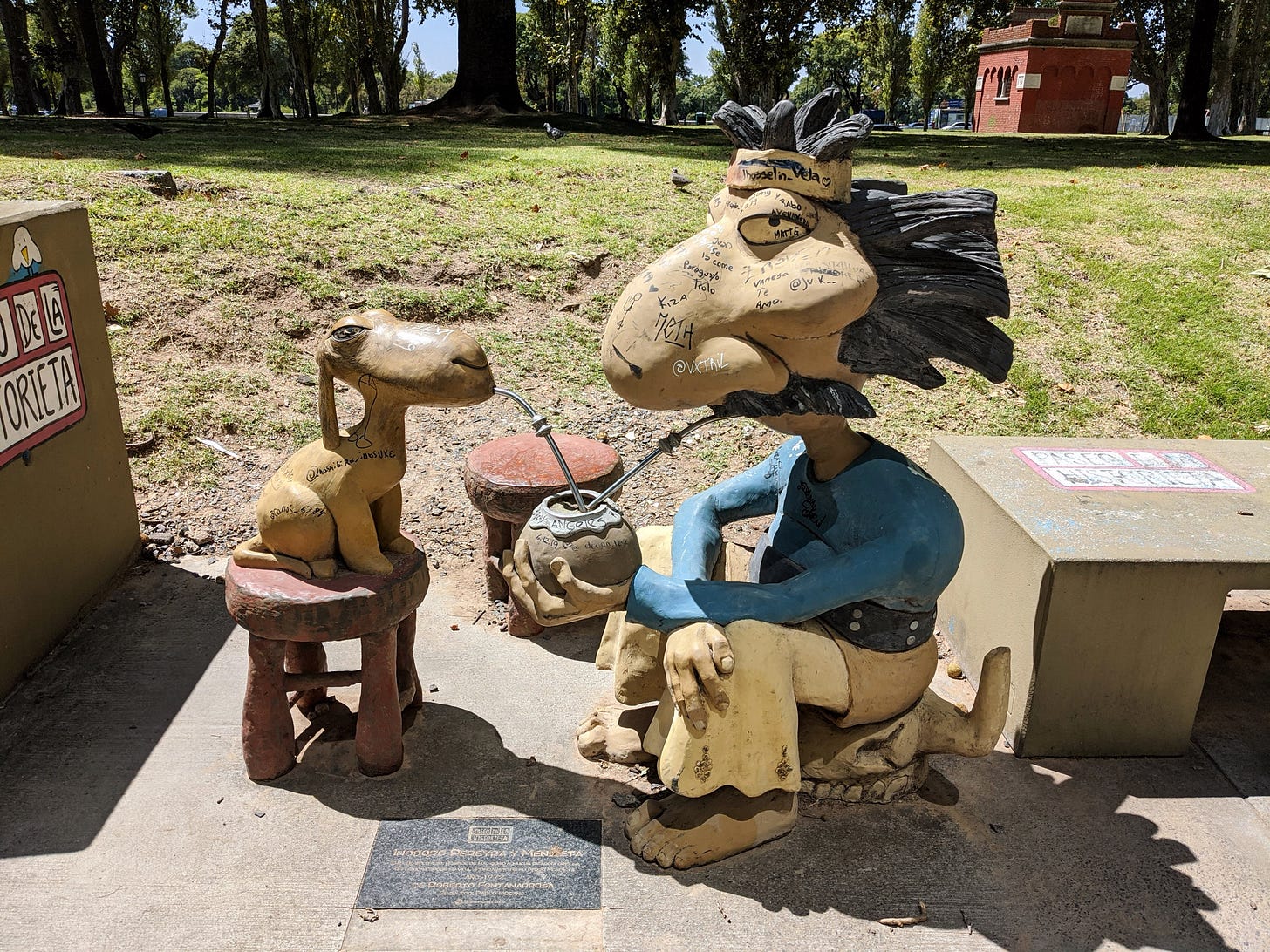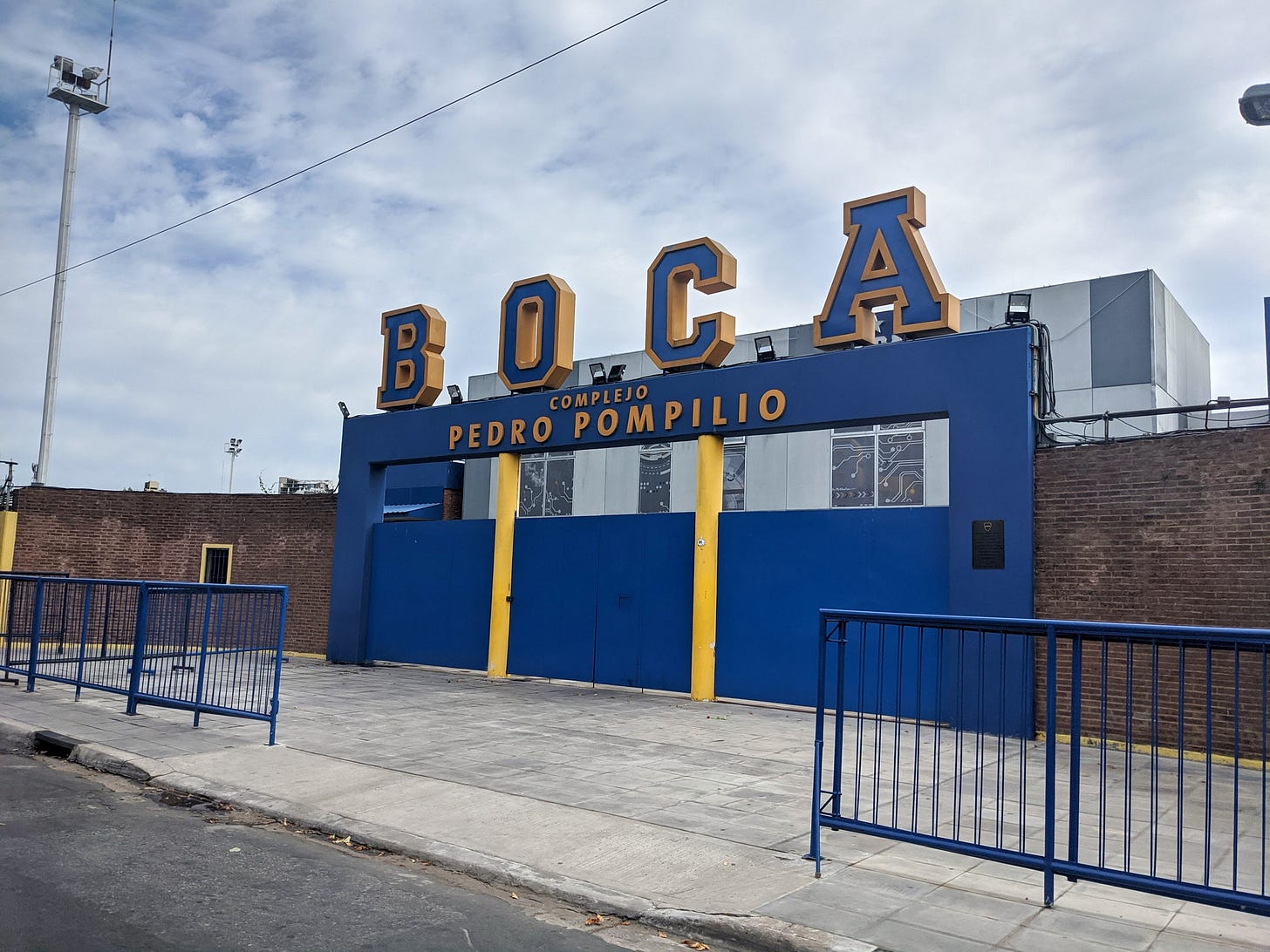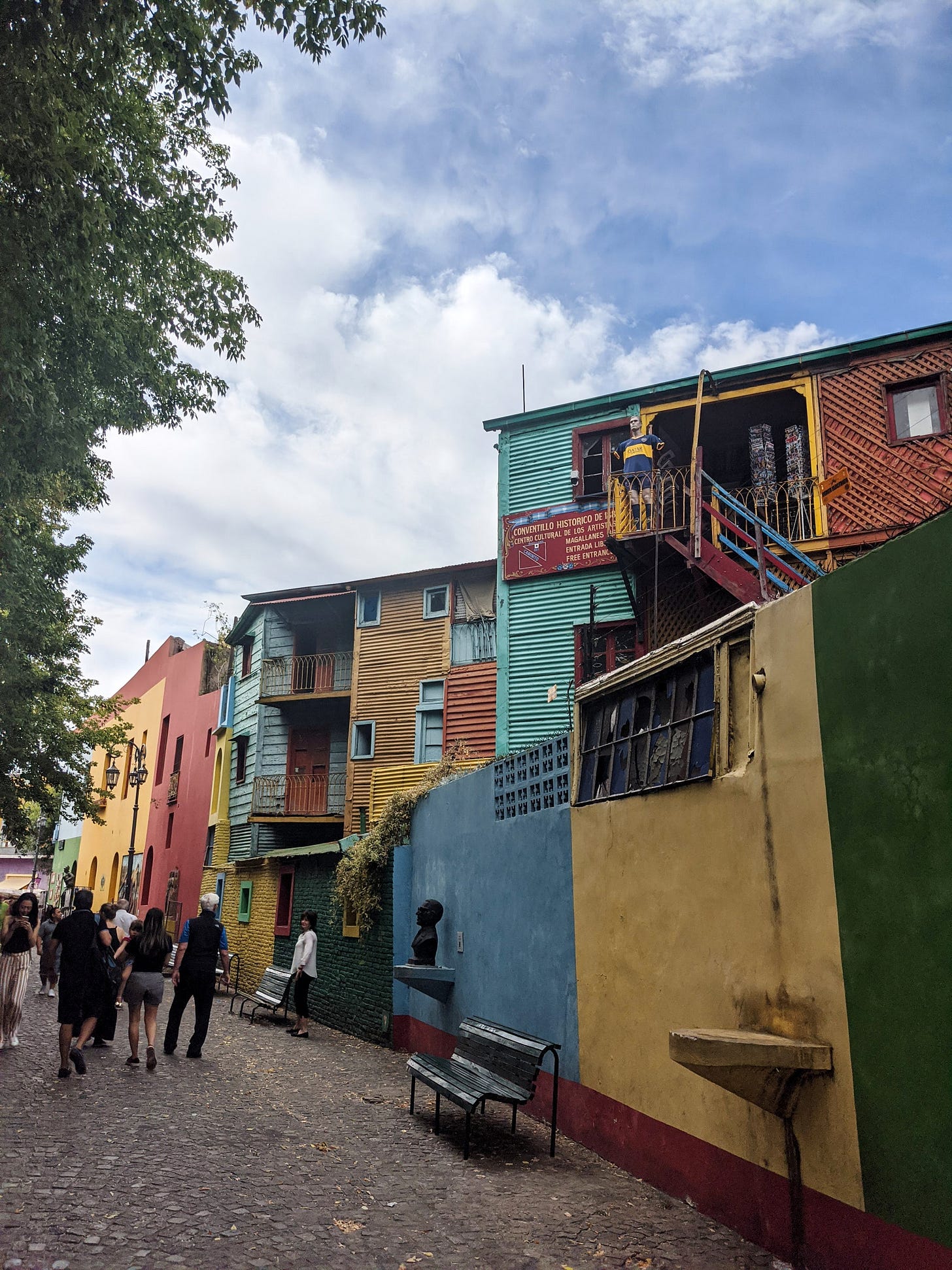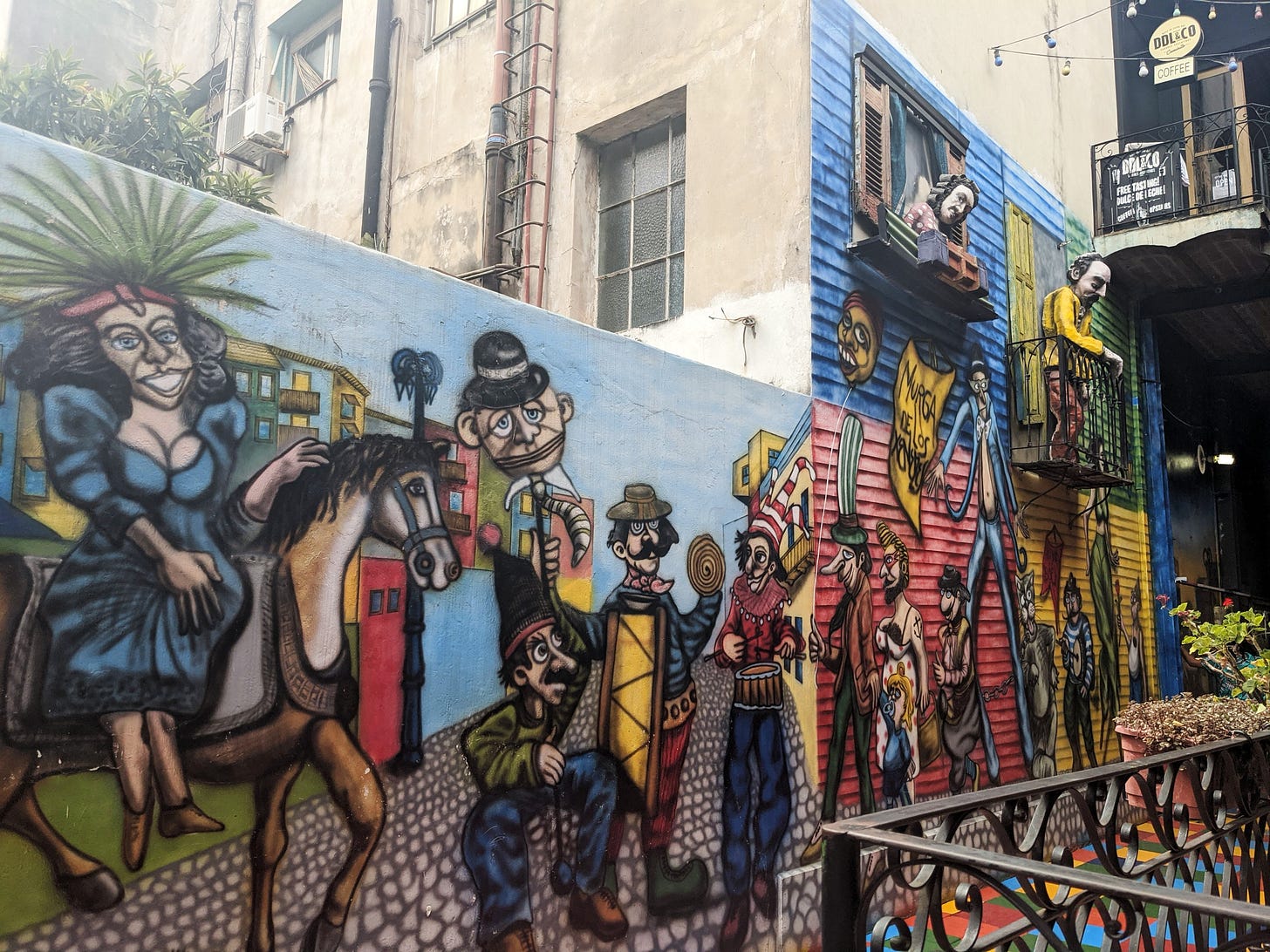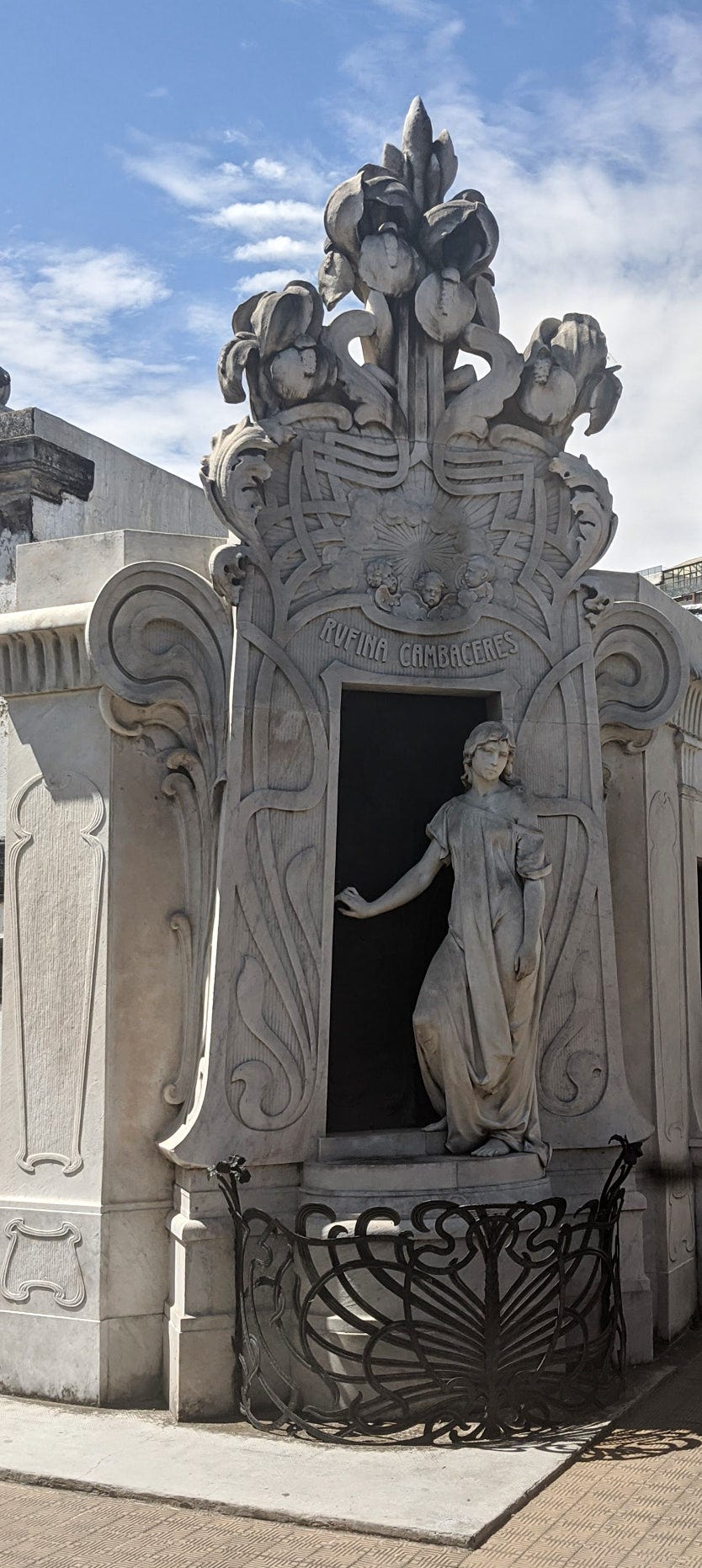 Signing off until next week
- Aengus McMillin